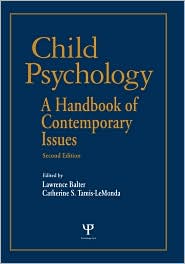 This new handbook provides an up-to-date, representative overview of important topics in contemporary developmental psychology. In chapters written by leading international authorities in their fields, the volume highlights promising new areas of investigation and reviews controversies in appropriate theoretical frameworks. This handbook will be an invaluable resource for developmental psychology instructors, students, researchers and educators.
Child Psychology
is available at
Amazon.com
,
Barnes & Noble
, and at
Psychology Press
.
"Instructors who wish to develop in their students a close understanding of the programmatic findings of an elite group of today's developmental scholars and active contributors to the contemporary literature on this select group of current topics in developmental psychology will find Child Psychology a very rewarding collection"
Marc Bornstein, National Institute of Child Health and Human Development


"Child Psychology offers an outstanding cast of developmentalists who build a launching pad to the 21st century upon the four foundation keystones of development...in an explicit effort to transform child psychology from a descriptive discipline to an explanatory science."
Prof. Hiram E. Fitzgerald, Michigan State University
Return to books section